Get the free PlayerPro app now for iPhone and Android to follow the Pompano Beach Classic!
Standings
3rd Annual South Florida Beach Soccer Tournament
Qualifier Policy : US Beach National Championships Policy & Regulations
Rules : FIFA & Tournament Rules
Age Groups are Birth Year!
Pro-Am Travel's East to South Florida
Date: June 23-24, 2018
 Join us for the 3rd Annual South Florida Beach Soccer Qualifier!  
TOURNAMENT DETAILS BELOW:
Tournament Dates: June 23-24, 2018
Location:  All games are played Pompano Beach (North of the Pier) 
Format of Play:

Micro Soccer – 4v4 (4 Field Players, no Goalie – small goals will be used)

9u Division plays – 6v6 (5 Field Players, 1 Goalie)

All other Divisions play – 5v5 (4 Field Players, 1 Goalie)

Recommended Roster Size:  10 players per team (14 player max, although only 12 can sit on the bench at any one time)
Entry Fees:

National Qualifier Youth Age Divisions:

$300 – South Florida United Youth Soccer Association Sponsored Member Pricing
$350 – All Non-SFUYSA members 

National Qualifier Adult Divisions:

$500 –  Men's, Women's and Co-Ed Teams

 

Please note 100% Deposit of SFUYSA & 50% of Non-SFUYSA teams will be held for team backing out with less than a week before the tournament.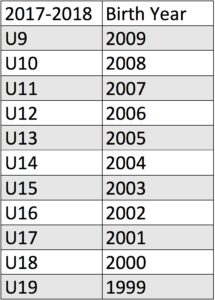 Youth, Men's, Women's, & Co-Ed Division Prizes:

1st Place: Player Medals

2nd Place: Player Medals 

Open Registration Deadline:  (BASED ON AVAILABILITY)
Teams are not accepted until full payment has been received
Rosters: Team Rosters must be entered online by,
Early check-in: Registration TBD.
Merchandise: PABS Merchandise will be available for sale onsite
To Pay by Check or Money Order:

Make Check or Money Order Payable to: 


PRO-AM BEACH SOCCER


3032 Fulton St.




Ste. 2




San Francisco, CA  94118

For More Information: 

Email Us

 or Call 415-308-0603