SF SFYS Recreational
The welfare of our Beach Soccer community is always our top priority. All our events will be held COVID permitting following the state and city guidelines. At this time, this event's registration is only open for those interested. Payments will not be accepted unless state/city guidelines permit its execution. 
We are taking a number of actions to ensure a safe event for everyone. This is a fluid situation and we will put public safety first.
REGISTRATION IS OPEN!
*PAYMENTS ON HOLD. WAIT FOR FURTHER ANNOUNCEMENTS!*
Come to join us for Beach Soccer fun!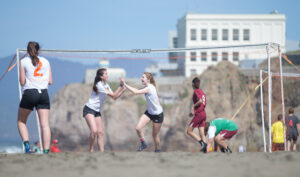 TOURNAMENT DETAILS BELOW:
Tournament Date: August 14-15, 2021
Location:  Ocean Beach
Format of Play:
Micro Soccer – 4v4 (4 Field Players, no Goalie – small, Pugg goals will be used on small fields)
U9 Division plays – 6v6 (5 Field Players, 1 Goalie)
All other Divisions play – 5v5 (4 Field Players, 1 Goalie)
Recommended Roster Size:  10 players per team (12 player max)
Entry Fees:
$325 – Micro Soccer Teams (6/7 Year Olds)
$395 – Boys & Girls Youth Teams (U9-U19)
$395 – Men's, Women's and Co-Ed Teams
Please note 50% Deposit will be held for team backing out with less than a week before the tournament.
Multiple Team Discounts (Within the same club):
Register 2 or More Teams = $50 Off Per Team
Register 10 or More Teams = $100 Off Per Team
Youth, Men's, Women's, & Co-Ed Division Prizes:
1st Place: Team Trophy and Player Medals
2nd Place: Player Medals
Open Registration Deadline: August 6th, 2021
Rosters must be entered by:
Teams are not accepted until full payment has been received.
Register and Pay Online or to pay by Check or Money Order Make Payable to: PRO-AM BEACH SOCCER
Send Check or Money Order to: 3032 Fulton St. Ste. 2, San Francisco, CA  94118