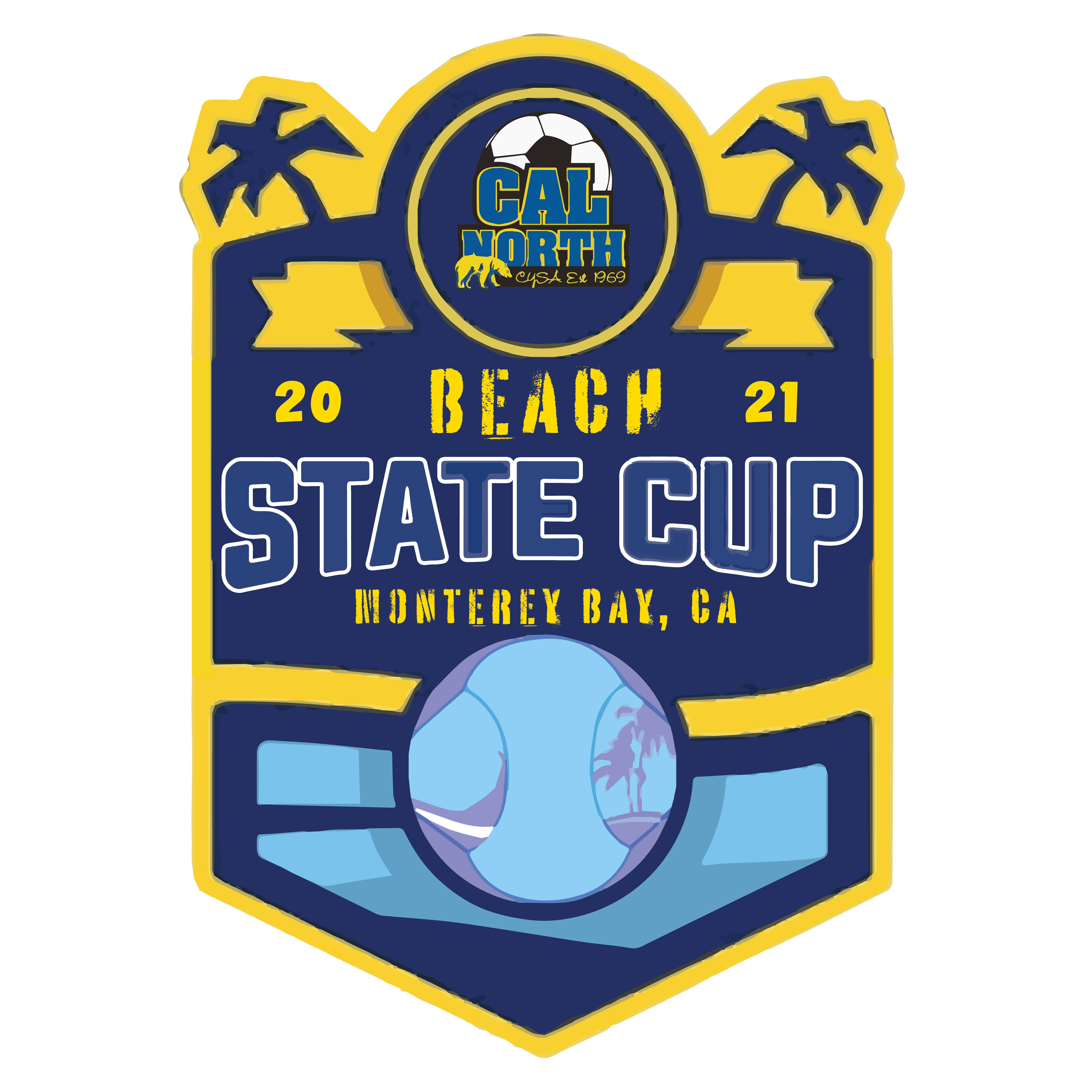 1st Cal North State Association Beach Soccer State Cup 
The welfare of our Beach Soccer community is always our top priority. All our events will be held COVID permitting following the state and city guidelines. At this time, this event's registration is open for those interested. Payments will be accepted now that we have received approval from the City of MONTEREY, CA  we are NOW ACCEPTING Payments!
We are taking a number of actions to ensure a safe event for everyone. This is a fluid situation and we will put public safety first.  More information on guidelines and protocols will be provided to all attendee's including early registration and social distancing registration which was highly successful for increasing our speed as well.
September 25-26, 2021 – Join us for this Beach Soccer Tournament in Northern California!!! 
Cal North Soccer Association in September becomes the first US Soccer Youth Association to declare a State Championship for beach soccer.  Whereas Cal North have always been major supporters of the sport they have now decided to take the next logical and create a youth state cup!  Whereas thousands of Teams have participated, in the last 17 years, Monterey, a brand new venue for a First time ever event in the United States.
Now the true Cal North Champions will be crowned which will be the first State Championship ever to take place nationally.  With that crown they will also qualify for the US Beach Soccer National Championship in San Diego.  You don't want to miss out on this Beach Soccer Historical Moment!
REGISTRATION IS OPEN!
Hotel Block Link:

TOURNAMENT DETAILS BELOW:
Tournament Dates: September 25-26, 2021 

Micro Soccer Division tbd.

Location:  All games are played on two beaches in Monterey, CA
Format of Play:

Micro Soccer – 4v4 (4 Field Players, no Goalie – small goals will be used)(NO STATE CHAMPION)

U9 Division plays – 6v6 (5 Field Players, 1 Goalie)

All other Divisions play – 5v5 (4 Field Players, 1 Goalie)

Recommended Roster Size:  10 players per team (12 player max)
Entry Fees:

$325 – 

Micro Soccer Teams 

(6/7-Year-Olds

)

One Day Only – Saturday, September 25th

$450 – Boys & Girls Youth Teams (U9-U19)
$450 – Men's, Women's and Co-Ed Teams

 

The tournament has the right to put teams of different ages together to make the opportunity for all teams to play if necessary.
Tournament has the right to move teams into an appropriate division for competition level if enough to divide (For example, Gold, Silver, Bronze Championships)
Please note, 75% Deposit will be held for teams backing out after the Deadline of September 17th.  A team backing out within two weeks will be subject to a $100.00 forfeiture of their entry fee. Back out within 10 days forfeiture is half entry fee. Less than a week, we will credit your payment for a future event if proven Covid19 related.  
Multiple Team Discounts: 

(Within the same club)

:

Register 2 or More Teams = $50 Off Per Team
Register 10 or More Teams = $100 Off Per Team
Youth, Men's, Women's, & Co-Ed Division Prizes:

1st Place: Team Trophy and Player Medals

2nd Place: Player Medals 

Micro Divisions

All Teams Receive Medals

No Trophies for this Division as the spirit is to play for fun and introduce players/parents to Beach Soccer
Men's & Women's Open Division Prizes:

Cash Purse Prize Dependent upon # of teams entered

1st Place: Cash Prize, Team Trophy & Player Medals

2nd Place: Cash Prize, Team Trophy & Player Medals

Open Registration Deadline: 

 September 17th

Teams are accepted upon full payment having been received
Rosters: Team Rosters must be entered online by September 17th
Friday night early check-in 4pm – 7pm:
SATURDAY CHECK-IN begins at 7:00 AM:

 The location is TBA, but will not take place at both locations. Plan for early registration on Friday.  

Merchandise: Official PABS Merchandise will be available for sale onsite & online.
To pay by Check or Money Order:

Make Check or Money Order Payable to 

PRO-AM BEACH SOCCER

3032 Fulton St.

Ste. 2

San Francisco, CA  94118

For More Information: 

Email Us

 or Call 415-308-0603
REGISTRATION IS OPEN!
You can view your game schedule, access maps, view the leaderboard and more with our app!
Our convenient and free app is available for IOS and Android users and will help you get the most out of game day. Just click the button for your device below.