THE BADUNG, BALI BEACH SOCCER INTERNATIONAL CHAMPIONSHIP!
Badung Beach Soccer Competition 2021: TBD
This international regional tournament has a limited number of teams and is open to all comers to compete against the PABS Qualifying Champions.   
HIGHLIGHTS 2018 : https://www.youtube.com/watch?v=MvsicgCtRyg
This event which has had interest from all over Europe, the Caribbean, America's and greater Asia should not only be a great competition but as a destination for sports tourism, there is probably not a better place.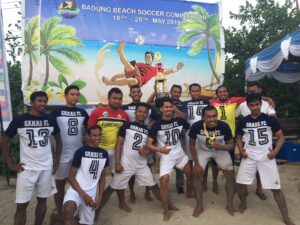 Kuta/Legian Beaches in Bali, Indonesia
$1,000 USD – Adult Teams Entry Fee
$10,000.00 USD Purse to be Won!
sginfo@proambeachsoccer.net for more information
COMPETITION DETAILS
5 a-side Competition

12 registered players (Max no exceptions)
(5 players, 7 Substitutes)

Guaranteed 3 matches per team
Registration by emailing Sginfo@proambeachsoccer.net
Media from 2018
*** Beach Soccer Competition 2018***