THE BADUNG, BALI BEACH SOCCER INTERNATIONAL CHAMPIONSHIP!
We are looking ahead and are in the midst of planning for 2019 with the below mentioned tentative dates for the events:
Badung Beach Soccer Competition 2019: 

28 April 2019 – 04 May 2019
This international regional tournament has a limited number of teams and is open to all comers to compete against the PABS Qualifying Champions.   
HIGHLIGHTS 2018 : https://www.youtube.com/watch?v=MvsicgCtRyg
Team Accepted for 2019 Event:
Singapore Cricket Club (Former Singapore & Bali Champion)
Ganas FC Legion (Current Champion)
 Open
Open
Open
Open
Open
Open
This event which has had interest from all over Europe, Caribbean, America's and greater Asia should not only be a great competition but as a destination for sports tourism, there is probably not a better place.  
The event is April 2019 – May 4th, 2018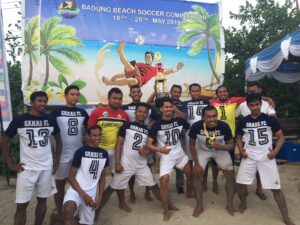 Kuta/Legian Beaches in Bali, Indonesia
$1,000 USD – Adult Teams Entry Fee
$10,000.00 USD Purse to be Won!
sginfo@proambeachsoccer.net for more information
COMPETITION DETAILS
5 a-side Competition

12 registered players (Max no exceptions)
(5 players, 7 Substitutes)

Guaranteed 3 matches per team
Registration by emailing Sginfo@proambeachsoccer.net
Media from 2018
*** Beach Soccer Competition 2018***