June 4th 2022 (

This event is now a 1 day Saturday event

due to a parking lot conflict which would not allow particpants to access until after 12pm on Sunday)
Come to join us for Beach Soccer fun!  REGISTER NOW!
Right along the beautiful and historic Ocean Beach.  This will be the 15th Annual Summer Blast and we will also be celebrating the Centennial Anniversary of local club San Francisco Vikings! They will be celebrating 100 years of existence and we will be providing a platform for them to share this experience with everyone including many new surprises with our Pro-Am Beach Soccer APP (also available in droid below) utilizing Live Scoring & Augmented Reality Scavenger Hunts!  We are excited about this opportunity of sharing our One of a Kind (At least for now) Technology allowing us to move ahead of the times and bring greater experiences for you to see at our events!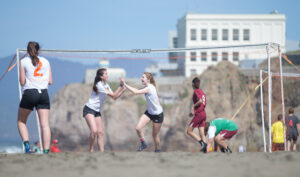 TOURNAMENT DETAILS BELOW:
Tournament Date: June 4th, 2022
Location:  Ocean Beach
Format of Play:
Micro Soccer – 4v4 (4 Field Players, no Goalie – small, Pugg goals will be used on small fields)
U9 Division plays – 6v6 (5 Field Players, 1 Goalie)
All other Divisions play – 5v5 (4 Field Players, 1 Goalie)
Recommended Roster Size:  10 players per team (12 player max)
Entry Fees:
$300 – Micro Soccer Teams (6/7 Year Olds)
$400 – Boys & Girls Youth Teams (U9-U19 Open)
$450 – Men's, Women's and Co-Ed Teams
Please note 50% Deposit will be held for team backing out with less than a week before the tournament.
Multiple Team Discounts: (Within the same club, Non-Qualifying Age Groups ONLY)
Register 2 or More Teams = $50 Off Per Team
Register 10 or More Teams = $100 Off Per Team
Youth, Men's, Women's, & Co-Ed Division Prizes:
1st Place: Team Trophy and Player Medals
2nd Place: Player Medals
Open Registration Deadline:  May 20th, 2022
Rosters must be entered by:  May 29th, 2022
Teams are not accepted until full payment has been received.
Register and Pay Online or to pay by Check or Money Order Make Payable to: PRO-AM BEACH SOCCER
Send Check or Money Order to: 3032 Fulton St. Ste. 2, San Francisco, CA  94118
Rules & Qualifying Information for Nationals:
Qualifier Policy: US Beach National Championships Policy & Regulations
Rules: FIFA & Tournament Rules
Download our App for FREE
Schedules
Scores
Standings
Live Map
Augmented Reality on Site!
Apple  – Pro-Am Beach Soccer 

Android – Event Map Wizard
Interested in our Professionally Taught Training Camp on Grass, Court, & Beach in Brazil in the Summer of 2022! Leave from the Santa Cruz even to Rio de Janeiro for the best opportunity for Summer Fun and Soccer! See Brazil Training Camp 2022!