Last week saw the Beach Soccer USA Cup in Oceanside, California take place.  The event for the Pro Division was exciting as always with teams from all over the world taking part.  Going into the tournament the favorites of #Botafogo and #Fortaleza of Brazil seemed destined to make their way to face off…
Our very own #NorCalBSC was also in attendance for the second straight year.  NorCal Beach Soccer Club is the brain child of Pro-Am director Tighe O'Sullivan who has had visions of this group for nearly a decade.  The closest comparison would be the fabled team out of Santa Cruz, #Team99, which was basically a majority of the US Men's National team, up until about 2009 when the team started to fade with their presence on the national team doing the same with the change in coaching.
NorCal is now mostly made up of players who grew up playing in Pro-Am Beach Soccer tournaments since they were young.  Eight of the 12 member team have played either with or against each other for over 10 years until coming together about 18 months ago to form the team.  The team's youngest member Isaias Pio (18) played in the first ever tournament when he was just barely six years old.  He along with four others played that first weekend in Santa Cruz 13 years ago.
In addition to the young lads now men they were joined by a few strong veteran's who made a major difference in professionalism of the whole group.  Former US National Team standout, Yuri Morales of Santa Cruz, now living in San Francisco, came out of retirement after being so inspired by the efforts of the players he also witnessed grow up on his Main Beach in last year's Oceanside event.  Also local and former USMNT keeper Sergio Alejandro Valle stood in between the sticks for our local boys!
Greivin Pacheco, a Costa Rican, who has for a long time called the Bay Area his home rejoined from last year's group, and it helps he is the all-time leading goal scorer for not only his birth nation, but also for the entire CONCACAF.  Captain, Organizer, & Emotional Heartbeat of the team Alan Grady, a long time and sadly overlooked local north bay standout, continues to be the motivator who is vital to holding it all together.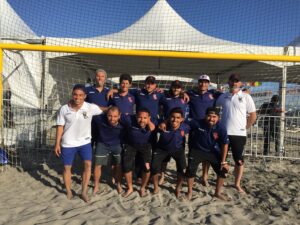 The team took huge steps this year since last facing many of the best players in the world.  Wrought with inexperience and ego the young players last year were taught valuable lessons both on and off the field in 2016.  Not all were ones anyone would want to face, but their response was a major step up in maturity, dedication, and focus.
In their first match they faced Leones Indomables of Costa Rica.  Although a Costa Rican team they brought in some serious "World Beater's" like #Llorenc_Enzo of Spain who is arguably the best goal scoring threat in the world today.  In addition, they added the young 20 year old Swiss standout #GlennHodel.  This kid plays like a man!  One of this writers favorite revelations while seeing the World Cup in Bahamas last month.
Even with all this talent though, NorCalBSC narrowly lost.  All but one goal being scored by the above duo it showed our local boys we can compete not only against the best of Costa Rica, but could compete against the best.  In this case, the first game set things in motion as they handled past champion and top seed in the group FC Culture and Tijuana of Mexico to move to the quarter finals for the first time.
The quarter final saw NorCalBSC come face to face with Fortaleza of Brazil.  If NorCal had their druthers they probably would have chosen to apply far more pressure to Fortaleza who was without red-carded keeper, but they scored first, and kept pressure on the eventual champions throughout the contest until the last few minutes when they gambled and lost by replacing the keeper with field player.  With four minutes left NorCalBSC was down 7-5 and eventually lost 9-5.  That being said, they missed two close range penalties which could have made a major difference.  Overall a tremendous effort facing basically an ALL STAR Brazil team.
The Semi-final's saw both teams NorCalBSC lost to facing Go Beach Soccer from LA, which is a sort of modern day version of Team 99 (but SoCal version now representing the US) and Botafogo of Brazil.  If not for a late charge by Go Beach Soccer Fortaleza would have shown a major blow up being ahead at going into the 3rd and final period 8-1.  They eventually lost 8-5 scoring four times in the final period, but clearly made NorCalBSC look that much better.
In the end, the eventual and inevitable confrontation of an ALL BRAZIL final between Botafogo against Fortaleza took place.  Fortaleza who seemingly had an easier run to the final's and the fortune of resting players in the Semi-Final scored first and second before Botafogo was able to respond.  But, going into the 3rd period down by a goal Botafogo responded again by drawing the match even.  In the end, it was not enough to turn the tide to grab the lead though as Fortaleza responded with a pair and as Botafogo tried to fight back it wasn't quite enough as they fell 6-4 to Fortaleza.
In the Consolation game Go Beach Soccer awakened again took down Leones Indomables of Costa Rica to secure 3rd place.  As NorCal BSC looks back they realize their two losses  were to a pair of the best strikers and one of the best All Star Brazil teams assembled this year anywhere in the world except the actual national team of Brazil.
The key now is to not let it go to their heads.  Whereas making the 1/4 final's is a huge step, and playing together, and especially continuing to become closer as a club have taken huge strides, there is still a long road ahead.  We look forward to continuing to be part of their growth.  We are proud of this group coming out of Northern California.  What it shows is that with determination and love for the game anyone…even a young kid playing in Santa Cruz next month in the Pro-Am's 13th Annual Santa Cruz Championship can one day look to play against the best in the world.
@llorenc_enzo #llorenc_enzo @glennhodel #glennhodel #yourbeachsoccer #beachsoccer #beachsoccerusacup2017 #beachsoccerus #futbolplaya @sarsonusa @sendaathletics @sc_pio12 #sc_pio #norcalbsc @norcalbsc #sarsonusa #sendaathletics @calnorthsoccer #calnorthsoccer @norcalpremier #norcalpremier #norcal #sandsoccer #wedventures @agrady9 #agrady9 #beachculture #soccermom #soccerdad #beachstyle #soccershare #soccerball #futebol #futbolista #soccergame #soccertournament #soccerlife #ussoccer #usbeachsoccer #beachsoccerusacup #soccer #socceramerica @socceramerica