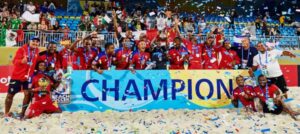 The 2017 CONCACAF Beach Soccer Championship was held in Nassau, Bahamas on February 20-26th. This is the second time in four years the tournament was played in the Bahamas. For all tournaments, the top two teams qualify for the FIFA Beach Soccer World Cup. Since the tournament was introduced in 2006, the most qualifying teams have been Mexico, El Salvador, and the United States. Mexico and El Salvador both qualified for the World Cup more than the US. Mexico has qualified 3 times and El Salvador has qualified 4 times with the US only qualifying three times (2006, 2007, & 2013). The US is tied for the most 3rd and 4th place finishes in the tournament. They have only qualified once since 2008.
This year, it seemed the United States was primed for another 3rd place finish with Mexico and El Salvador being ranked above them. Mexico and El Salvador rank 15th and 19th worldwide while the US ranks 27th. It would have taken a stellar performance by the United States to pull off an upset and qualify for the World Cup for just the fourth time in FIFA Beach Soccer history.
As it was, an unknown and unranked team from Panama came in and upset everyone taking the CONCACAF title beating Mexico in the final 4-2.  The unlikely winner took out the USA in the Quarter Finals and went one further beating El Salvador in penalties in the Semi-Finals.  This extends Mexico's qualification to 4 times  and moving them into the TOP 10 world ranking while El Salvador our US team sit out another World Cup.
The World Cup will be taking place between April 27th – May 7th once again in Nassau, Bahamas.   The favorites for the event include defending champion Portugal, Russia (who won previous two cups), Tahiti who has finished top three in past two cups, and of course Brazil who many believe unlike their ranking they are the favorites based on form.  We will see soon!  In the US you will be able to watch the games on Fox Sports & Telemundo who have the rights.  Beach Soccer World Wide (www.beachsoccer.com) will feature the latest news and highlights.