David Mondragon Interview
The year is coming to an end but Beach Soccer continues to grow. This month Pro-Am Beach Soccer had the opportunity to speak with David Mondragon, Guero,  and ask him a few questions about his path and beach soccer experiences. David had his debut for the US National Beach Soccer team on October 20, 2017 at the Puerto Vallarta Cup. Speaking to him was interesting to gain an insight of his views of playing beach soccer.
When did you start playing soccer?
Honestly, I don't remember exactly when, but Greivin Albacurci Trained us at the beach. First actual experience of beach soccer game was with Pro-Am Beach Soccer at their first tournament in Santa Cruz (in 2005). 13 years of age.
How often do you train?
Well, when I was training for camp, I was training at least 5 to 6 days a week. But now that I don't have much going on, I train 2 to 3 days a week.
When was the first time you played against a high level international team and who did you play with?
It was when I played at Oceanside with NorCal BSC against the Switzerland Chargers.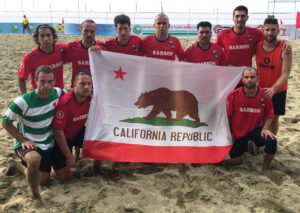 How much credit do you give NorCal BSC for exposing you to the higher level you now enjoy?
I don't know, because I do a lot of training myself. So I don't know.
How did that change your focus?
No, I always want to play. Ever since I was 18 years old, Pacheco kept telling me to keep playing. And I have always played. The more you play the better you get.
What is your philosophy when playing sport?
Just stay focused on hard days, keeping being you and have fun. Don't let anyone criticize your game because at the end of the day you are the one that knows what you can improve in.
Who do you give credit for inspiring you to reach a high level of beach soccer excellence?
I am not going to lie, myself. Because I been through some tough times. I was like ugh. How am I going to get rid of this? And slowly started focusing on my health.  And then my soccer. The mind is a powerful thing.
How do you prevent injuries?
Not at all but I should though.
What has been your greatest challenge to reach your accomplishments you have earned?
I been playing with a bad knee pretty much since 2012/2013.  And I never got surgery. But still being able to play at a high level with an injury like that, it has been amazing. Have injured my ACL and bad meniscus.
How has beach soccer affected your game on the grass?
Not when I was younger, because beach soccer was only a weekend thing. But as I got older and began playing community college and training, yea I definitely saw an improvement. With your touch, agility, conditioning.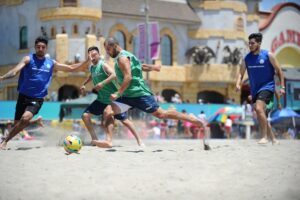 Do you believe it will be beneficial for younger players to play beach soccer?
Yea, playing beach soccer and futsal. I feel small sided soccer will give you better opportunity to play better on grass.
How did you feel going into you first debut against France?
Honestly really excited. A little nervous but more excited than anything. I know being nervous is good. I been waiting for this for a few years now.
In your second game against Colombia, you scored a phenomenal goal in the second period. Did you anticipate it before you scored the goal with bicycle kick?
Well, we were practicing that play, but never practiced the bike on that play. But it was too far ahead of me, so decide to throw myself at it and I got a good feel on the ball.
In the Mexico game, you scored the first goal of the game. Your celebration was the same Cauhtemémoc Blanco, a popular Mexican player. Did you have that celebration already decided from before the game, or did it come at the moment?
Yea, I definitely planned it. I grew up watching Cauhtemémoc Blanco play, he is one of my idols. Had to pay my respect. The crowd did not like it. I am glad it was the first goal.
It seemed like an intense game with all of the fans into the game. Did you feel a difference between playing the three games?
Well, the atmosphere. When we played Colombia, it was the same atmosphere as the Mexico game. They didn't want us winning, so they were going for Colombia. When we played against Mexico, it was a sold out stadium so the atmosphere was more intense, hating on us. It was a lot of fun. I would rather play over there in a full stadium rather than over here in the states in an empty stadium. France was not full stadium because it was on a Friday but still a good turnout.
This weekend you are going to Florida for a beach soccer tournament, correct?
Yea, I am going to play with Fresh Water beach Soccer club at the Major Beach Soccer Championships.  This is my first year to go to this tournament. I originally wanted to go with Santa Cruz Beach Soccer Club but that did not work out.
What are your Current goals?
I don't know, obviously excited about the world cup circuit coming up and to play as many tournaments as I can. And hopefully get in the world cup. And also to play in Europe.
What would you recommend for the youth inspiring to play on the national team?
Keep on training, repetition is the best skill. The younger you play this game the better you get. Keep on playing.